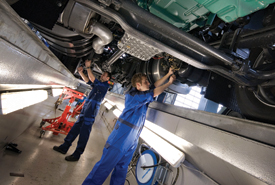 Workshop
BAS Tyres is your Full Service Partner. Because of our close cooperation with BAS Trucks, we have knowledge of trucks of all brands and years. Next to delivering and mounting tyres, we can also offer services for your truck and trailer. Every day more than 50 specialized mechanics are working in our workshop. With an annual total of over 65.000 manhours, our workshop belongs to the largest in Europe.
Do you have a question about our workshop or our services? Please fill in our contact form or call us at +31 413 371 104.
Quick repairments
Our workshop is distinguished by fast service and broad expertise. That's why you can come to us for every repairment or service you need. We always have a mechanic available for quick repairments. So if you come to BAS Tyres to mount your new truck tyres, we can also repair small defects immediately.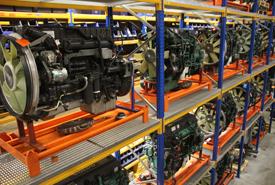 Replacement of parts
Because of our close cooperation with BAS Parts, we can also deliver and replace all kind of parts for your truck or trailer. The stock of BAS Parts includes complete cabins, engines and gearboxes, but also smaller parts like generators. Within their stock you can find parts from all European brands, but they are specialized in parts of DAF, Volvo and Renault.
Find your parts